S3 RECORDS

S3 is a Los Angeles based indie-label that still believes in the power of music to uplift, heal, and change the world.
We are the sister company of Kingdom2Music, a full service music licensing and publishing company with placements in over 100 film and TV programs, boasting a 1000 song artist-driven catalog. Kingdom 2 Music is proudly distributed by APM.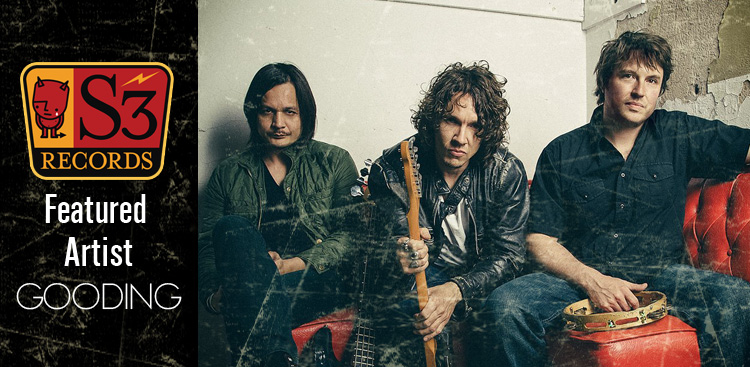 Soul-stirring, foot-stomping Rock 'n' Roll from the plains. With 750 shows in 157 cities, this LA-based/Kansas bred power trio is by far one of the hardest working bands in America.

Guitarist/Singer and namesake "Gooding" and his band of brothers, Jesse Rich and Billy Driver, have been touring non-stop for 8 yrs. Their live shows are infused with the confident energy and heart-on-your-sleeve emotion that only comes from 3 childhood friends living out their dream on the road. Through relentless touring and honest interaction with their fans, music on the DVDs of Iron Man 2, Walk the Line, Ice Age 2, as well as commercials for Dodge, Jeep and Chrysler, the band is building the kind of brick by brick long-standing career that artists dream of.
Gooding is a celebrity ambassador for Quincy Jones and John Hope Bryant's "Operation Hope", helping to teach financial literacy to inner city youth and make "smart sexy again".

He was recently chosen as a honorary committee member for the PCRM (LINK) , alongside a short list of celebrity's that include Alec Baldwin, Woody Harrelson, Ellen Degeneres, and Tobey Macguire.
GOODING is currently touring in support of their latest full length release Buffalo.
For more info visit WWW.GOODINGMUSIC.COM